Sonos: SUB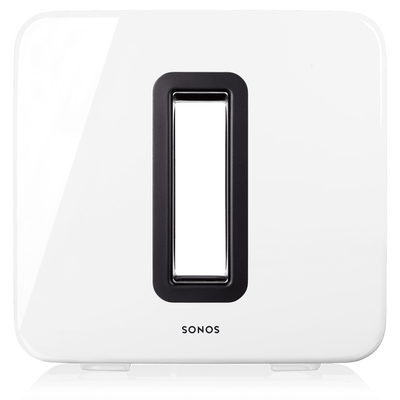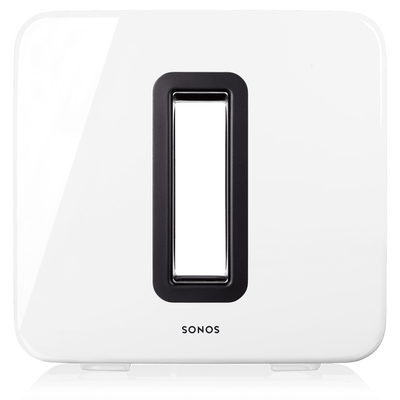 Sonos: SUB
Soul-shaking sound. Heart-pounding design. One-button setup.
Save $100 on SUB. Offer valid June 4 – 18, or while supplies last.
Streams over wi-fi, not Bluetooth, so the music never stops – even if you get a phone call.
Fills any room with deep, clear HiFi sound
Wireless, one-button setup
Seamlessly integrates with the Sonos System
Two force-cancelling speakers positioned face-to-face offer deep sound with zero cabinet buzz or rattle
Place it anywhere in the room—even lying flat under a couch
Adds dramatically deeper bass to any Sonos speaker (or amplified component) : CONNECT:AMP; PLAY:5; PLAY:3; PLAY:1; PLAYBAR.
Soul-shaking sound. Heart-pounding design. One-button setup.
Listen down deep
Fills an entire room with thick layers of deep, bottomless sound that let you hear and feel every chord, kick, splash and roll. You won't just hear the difference our wireless subwoofer makes—you'll feel it in your bones.
All sound, zero vibration
Two force-cancelling speakers positioned face-to-face means all the sound and energy from the music comes through loud and clear, and none of it is lost in cabinet buzz or rattle.
One-button setup
No wiring. No programming. Press one button, follow the simple prompts on your Controller and the system automatically adjusts audio settings to perfectly balance your SUB and the paired Sonos component for a flawlessly optimized, whole-room listening experience.
Wherever you want it
Because it's wireless and designed to perform perfectly, whether positioned horizontally or vertically, you can put the SUB anywhere you want in the room—even lying flat under a couch.
Access all the music on earth
Pre-loaded Internet radio stations - free of charge
Get over 100,000 free radio stations, shows, and podcasts -- all for free. And you can tune in without turning on your computer. Browse for stations or type in specific call letters or a radio host you love.
Endless music from the most popular online music services
Sonos works seamlessly with Amazon Music, Deezer, iHeartRadio, JB Hi-Fi NOW, JUKE, Pandora®, Rdio®, Rhapsody®, SiriusXM™, Slacker® Radio, Songza, Spotify®, Stitcher SmartRadio™, Radio by TuneIn, Concert Vault, WiMP, and downloads from any service offering DRM-free tracks. (Service availability varies by region.)
Computer-free music playback
Get instant access to millions of songs and thousands of radio stations — without ripping, downloading or turning on a computer. Sonos connects directly to these services over the Internet and then streams the music to the rooms of your choice.
Play the music on your computer in any room
Play music stored on up to 16 PCs, Macs or NAS (Network Attached Storage) devices on your home network, supporting the most popular audio formats, from iTunes® to MP3.
Control your Sonos music system with your smartphone, tablet and more
Control all your music and rooms with your Android™ device, iPhone®, iPod touch®, and iPad™
Free Sonos Controller apps for Android, iPhone and iPad let you control your Sonos players, music on the Internet and your computer right from the palm of your hand. Download the apps for free on the iTunes App Store or Google Play™.
Integrated, multi-room control
If you have multiple music players, you can control what music is playing in every room in your house, from anywhere in your house. Sonos Controllers aren't tied to a specific player, so you can use any Controller to control the music and the volume in all your rooms.
Wireless multi-room music with SonosNet
Built-in wireless capability
The SUB can go anywhere, delivering music to any room in your house, wirelessly. Music players and controllers work on your home WiFi network, or they can establish their own secure wireless mesh network that delivers the extensive range and superior performance if your home WiFi isn't reliable enough.
SonosNet wireless mesh network technology
Provides whole-house coverage, ensures synchronous music playback, and avoids sources of wireless interference. Incorporating sophisticated MIMO (multiple input, multiple output) technology, SonosNet uses multiple antennas and radios together to boost signal strength and reach remote locations.

Works with any mix of Sonos components
Compatible with all previous generations of Sonos players, CONTROL, and BRIDGE
Audio:
Amplifier
Two Class-D digital amplifiers perfectly tuned to match the speakers and acoustic architecture.
Speakers
Two force-cancelling speakers positioned face-to-face for deeper, richer sound and zero cabinet buzz or rattle.
Dual acoustic ports
Carefully tuned to enhance the SUB performance.
Frequency response
Plays down to 25 Hz.
All digital sound
All filter settings, active equalization, and time alignment are done digitally through state-of-the-art DSP (Digital Signal Processing) circuitry for zero-loss audio quality and energy.
Automatic equalization
The system automatically adjusts audio settings to perfectly balance your SUB and the paired Sonos component to ensure amazing sound quality.
Networking*
Ethernet Port
A single Ethernet port that can connect the SUB to a wired home network.
Wireless connectivity
Works on your home WiFi network with any 802.11b/g, 2.4GHz broadcast capable router. Also works on SonosNet, a secure AES encrypted, peer-to-peer wireless mesh network dedicated exclusively for your Sonos system to reduce WiFi interference
General:
Power Supply
AC 100-240V, 50-60 Hz
Side panel button
Join Household
Side panel LEDs
Indicate SUB status
Dimensions (H x W x D)
15 x 6.2 x 15.8in. (380 x 158 x 402mm)
Weight
36.3 lbs (16kgs)
Product finish
Premium Black Gloss
Package contents
Sonos SUB, AC Power Cord, Warranty and Regulatory Booklet, and Quick-Start Guide.
Multiple orientations
Stand upright or lay flat for flexible placement.
Rubber and felt feet
Built-in rubber feet; optional felt feet included.
Supported devices
Supported devices
SUB WORKS WITH all Sonos amplified components: CONNECT:AMP/ZP120/ZP100; PLAY:5/ZonePlayer S:5; PLAY:3; PLAY:1; PLAYBAR. Does not work with the non-amplified Sonos CONNECT/ZP90/ZP80.