Sonos BRIDGE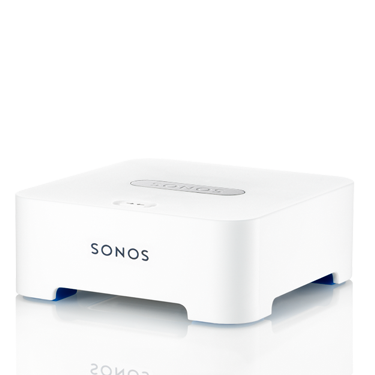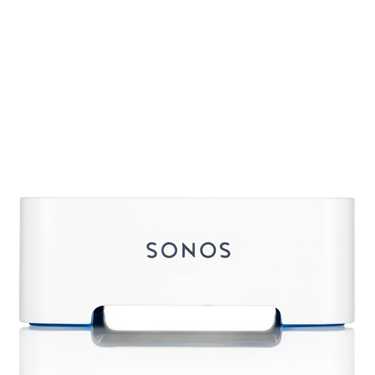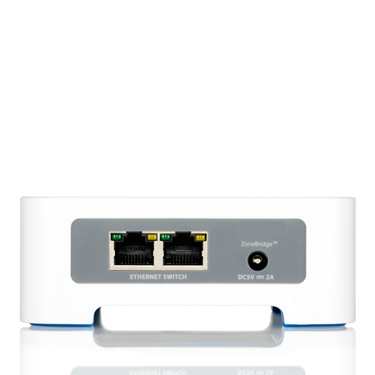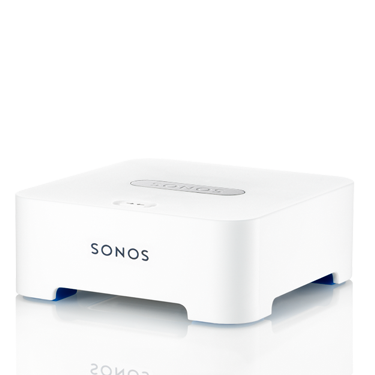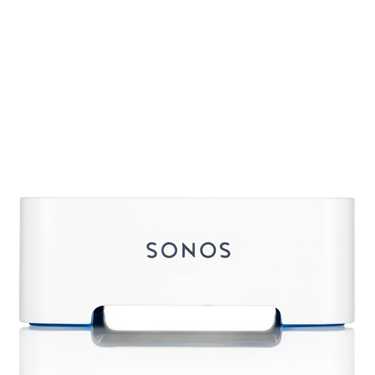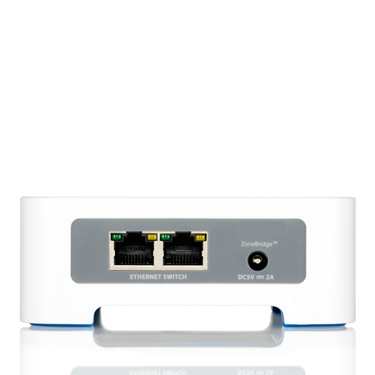 Sonos BRIDGE
Improve wireless reliability or create a Home Theater set up
Connect to a router to create a dedicated wireless network for your Sonos system
Perfect for larger homes where WiFi doesn't reach all of your rooms
Required to wirelessly connect PLAYBAR with SUB and rear speakers
Extend the range of your existing Sonos network
Details
Instant wireless setup
Just connect a BRIDGE to your router using a standard Ethernet cable. Then a simple button press will start SonosNet, a secure AES encrypted, peer-to-peer wireless mesh network that improves performance and range compared to your home WiFi network.
Elevate your TV sound
BRIDGE lets you wirelessly connect your PLAYBAR to SUB and PLAY:1 rear speakers for an immersive 5.1 surround sound experience that's simple to set up and control.
Improve wireless reliability
BRIDGE plugs into your home router to create a dedicated wireless network for your Sonos system that provides reliable wireless performance when your home WiFi network doesn't reach all of the rooms where you want music or just isn't reliable enough.
Wireless bridge to extend SonosNet and your musical enjoyment
Extend the range of the Sonos system
Once you've created a dedicated network, you can use additional BRIDGEs to stream music wirelessly to a remote location. Just place an additional BRIDGE in between a Sonos component in a remote location and the rest of the Sonos system.
Expand the wireless reach of the Controller
Improve Controller access to SonosNet by placing a BRIDGE in areas where wireless coverage needs a boost. Ideal for retrofits, where all Sonos components might be in one location instead of being placed throughout the home. NOTE: This feature is only available on Sonos CONTROL and the Android controller app. Not available on desktop or iOS controller apps.
Easy Internet connectivity for other products in your house
The BRIDGE has a two-port Ethernet switch to bring standard Internet connectivity to your set-top box, DVR, PC, Game Console or NAS drive.
General:
Dimensions (H x W x D)
1.61 x 4.33 x 4.33 in. (41 x 110 x 110 mm)
Product finish
White / high-quality polycarbonate material
Multi-language support
Sonos System Software supports : Danish, Dutch, English, French, German, Italian, Japanese, Norwegian, Simplified Chinese, Spanish, Swedish and Brazilian Portuguese.
Package contents
Sonos BRIDGE power cord, flat Ethernet cable, QuickStart Guide
Power Supply
Slim external power adapter, Output: DC 5V, 2A
Connect button
Automatic wired or wireless setup of the Sonos Multi-Room Music System
Front panel lights
Indicates BRIDGE status
Weight
0.59 lbs (270 gr)
Storage temperature
4°F to 158°F (-20°C to 70°C)
Operating temperature
32°F to 104°F (0°C to 40°C)